This site brought to you by Stefan Gonick
EFT Practitioner, Trainer and Soulmate Attraction Mentor
www.EFT-Alive.com Single2Soulmate.me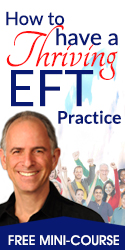 Disclaimer: The presenters feel that these workshops generate extraordinary benefits for all attendees. However, EFT is a very flexible process and thus the workshops represent the views of the presenter(s) and do not necessarily reflect those of EFT, Gary Craig or Stefan Gonick, the owner of this web site.
Workshop Information
EFT Level 1 and 2

EFT Tapping That Works!
Date:
Friday, May 03, 2019 to Sunday, May 05, 2019
Time:
9:00 a.m. to 5:00 p.m.
Num Days:
3
Cost:
$600 until April 11, $850 after April 11
Presenter(s):
CJ Puotinen, AAMET Master Trainer
Location:
Natural Health Cabin
15217 Highway E
Curryville, MO, USA 63339
Phone:
573-324-5239
Email:
Email Presenter
Web Site:
http://www.naturalhealthcabin.com
Return to Workshop Listing
---
EFT Level 1 and 2 Workshops - Tapping That Works!
Friday May 3 - Saturday May 4 - Sunday May 5
18 Classroom Hours
The Natural Health Cabin, 15217 Highway E, Curryville, MO 53339

Level 1 EFT (Mastering the Fundamentals) Friday May 3, 2019 – 9 AM to 5 PM

This introductory workshop provides 6 classroom hours of instruction in fundamental EFT, including:
• EFT's History and EFT Founder Gary Craig's "Discovery Statement."
• Meridians and Tapping Points.
• Measuring Intensity (Subjective Units of Discomfort Scale).
• EFT's Basic Protocol.
• The Importance of Specific Events.
• Key Questions for Finding Core Issues.
• The Concept of "Aspects."
• EFT's "Generalization Effect."
• Tapping Shortcuts.
• EFT for Pain or Discomfort.
• EFT for Cravings.
• Troubleshooting – What to Do If EFT Isn't Working.
• Gary Craig's "Personal Peace Procedure."

Level 2 EFT (Intermediate Tapping Skills) Saturday-Sunday May 4-5, 2019 – 9 AM to 5 PM

EFT Level 2 provides 12 classroom hours of instruction, including:
• Uncovering Core Issues.
• Working with Trauma.
• EFT's Tearless Trauma Technique.
• EFT's Tell the Story Technique.
• EFT's Watch the Movie Technique.
• Testing Results.
• Dealing with Physical Symptoms.
• Working by Phone and Internet.
• EFT in Groups, for Children, and for Pets and Other Animals.
• Scope of Practice, Informed Consent, and EFT Ethics Code.

This workshop includes group demonstrations and one-on-one work. All who attend will be able to practice on their own issues as well as those of others. The workshop includes a detailed training manual, course handouts, recommended reading list, follow-up memos, and a free conference call review. The AAMET Level 1 and 2 trainings are required courses for those working toward practitioner certification. (Practitioner certification training is optional and available to all who attend Level 1 and 2 workshops. For information, visit www.AAMET.org.)
CJ Puotinen (who lives in Helena, Montana) holds advanced-level certifications from EFT founder Gary Craig, the Association for Comprehensive Energy Psychology, and AAMET International (Association for the Advancement of Meridian Energy Techniques). She is an Accredited, Certified EFT Master Trainer of Trainers.
For information about CJ, visit www.TaptheWorldEFT.com
To register for the May 2019 workshop in Missouri, contact Sandy Klott at nhsandyk@yahoo.com, phone 573-324-5239, www.naturalhealthcabin.com.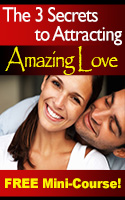 Discover the 3 Keys to
Finding Lasting Love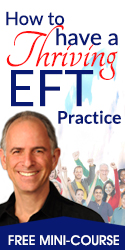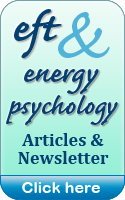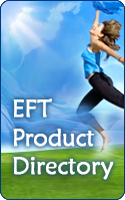 EFT never ceases to amaze me! The process is gentle and often provides benefits where other methods fail.

— Dr. R. Vergini, MD