This site brought to you by Stefan Gonick
EFT Practitioner, Trainer and Soulmate Attraction Mentor
www.EFT-Alive.com Single2Soulmate.me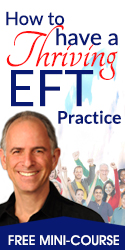 Disclaimer: The presenters feel that these workshops generate extraordinary benefits for all attendees. However, EFT is a very flexible process and thus the workshops represent the views of the presenter(s) and do not necessarily reflect those of EFT, Gary Craig or Stefan Gonick, the owner of this web site.
Workshop Information
AAMET Accredited Level 2 EFT Practitioner Training

Level 2 EFT Practitioner Training
Date:
Saturday, June 01, 2019 to Sunday, June 02, 2019
Time:
10.00 - 5.00
Num Days:
2
Cost:
£330 (Early Bird Offer of £300)
Presenter(s):
Emma Roberts & Sue Beer
Location:
Bickerton House, 25-27 Bickerton Road
London, Greater London N19 5JT England
Phone:
+44 208 348 5305
Email:
Email Presenter
Web Site:
http://www.theeftcentre.com/efttraininglevel2
Return to Workshop Listing
---
AAMET Accredited Level 2 EFT Practitioner Training
Our Level 2 Practitioner Training is the next step towards excellence after attending a Level 1 Introductory Workshop.

This is a 2 day training which goes from the basic mechanics of EFT into the beginnings of artistry. You will develop your confidence, intuition and creativity with these techniques. The EFT Centre aims to support you in striving for excellence, through developing your basic skills to a high standard. Topics include working with trauma, physical pain, phobias, aspects, and uncovering core issues.

We encourage all our students to re-sit the Level 1, 2 and 3 trainings once for free. We believe this is the best way to consolidate your learning and deepen your understanding. Further re-sits are subject to a minimal charge of £50 per day.


Syllabus includes:
Tearless Trauma Technique

Telling the Story Technique

Techniques for More Gentleness

Chasing the Pain

Addressing Physical Issues

Finding Core Issues.

Testing results.

The Palace of Possibilities

Delivering EFT Tapping by Telephone.

Borrowing Benefits/Group Work

Phobias

New Tapping Points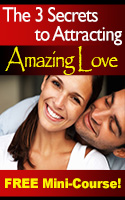 Discover the 3 Keys to
Finding Lasting Love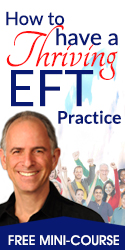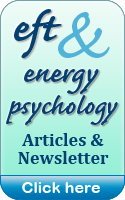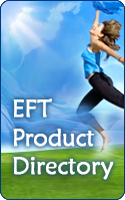 EFT never ceases to amaze me! The process is gentle and often provides benefits where other methods fail.

— Dr. R. Vergini, MD